Mature Makeup Made Easy: learn the strategy for flawless result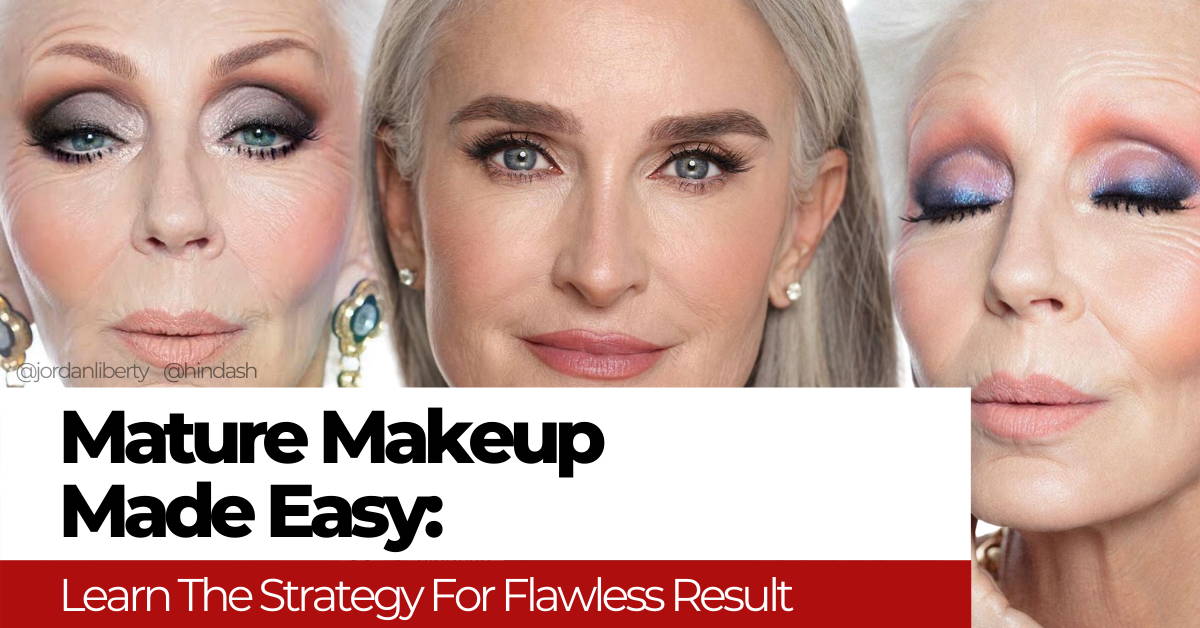 Models: @carolinelabouchere & @colleen_heidemann
Let's start with putting things on the table: there is no magical cure to bring back the youth into one's face. Of course, you can do what you can with makeup, but no foundation or primer will erase wrinkles or firm the sagging skin completely, but… and this is one big BUT - you can dramatically improve your model's or client's appearance if you know the right techniques on combating those problematic areas.
To be honest, if your Instagram is filled with before/after content - this is going to be pure gold, since mature makeup produces the most impactful results and boosts the artists credibility in the community or among followers. And who does not want to become an authority in their field?!
Video credit: @jordanliberty
Intrigued, yet?! If you have enough experience, you might think that this is going to be just easy peasy and that's where you're wrong. It's not only the hardest, but also the most exciting challenge you will ever face. With this kind of makeup, you have to base it all on experience and strategy. And you know what?! We are just beaming with knowledge and excitement to help you.
First, let's look over what are your main combat areas and why:
MATURE MAKEUP COMBAT MAP: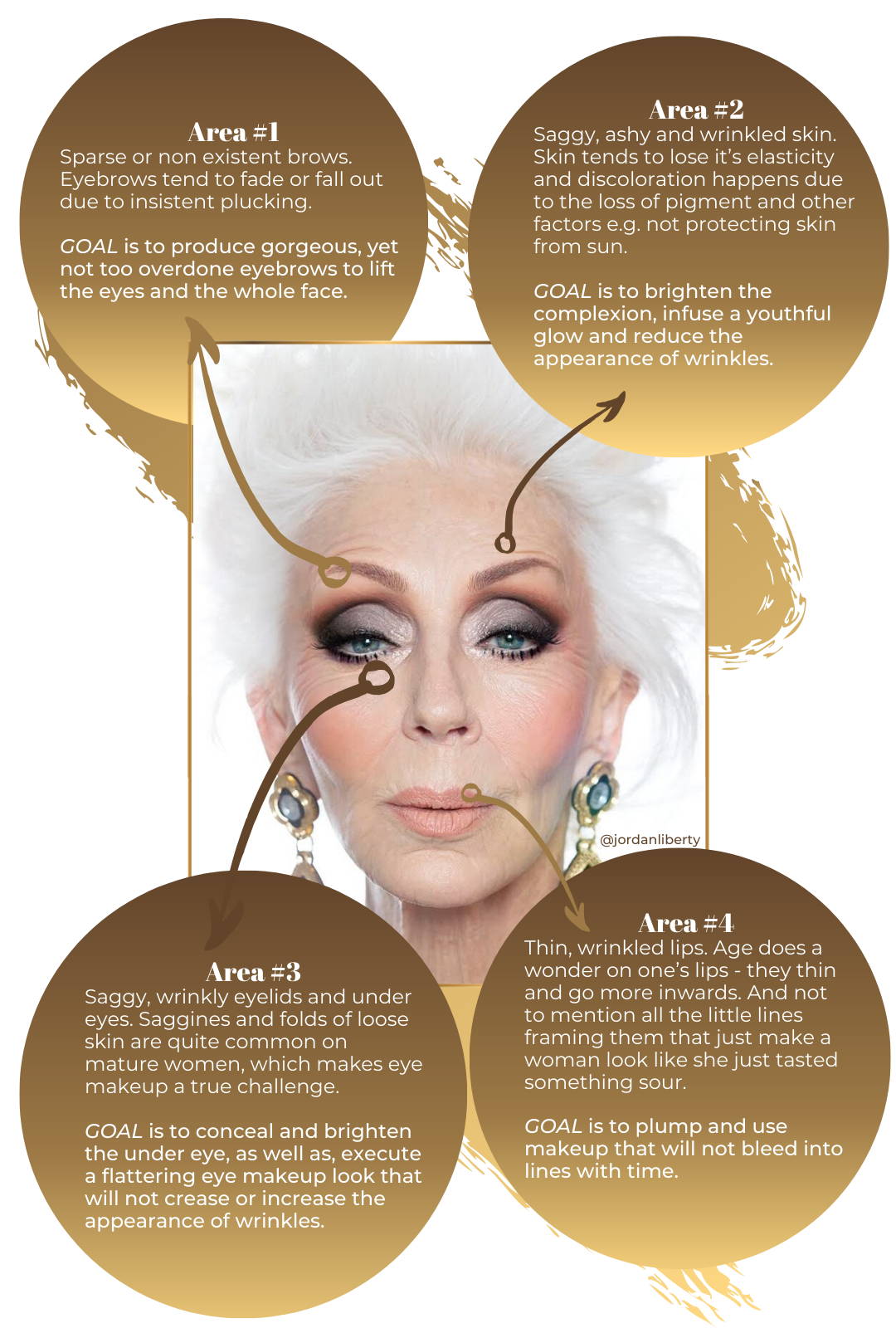 Now that we overlooked our main challenges, time to move on to actual recipes and methods on combating them.
Strategy for Area #1: sparse or non existent brows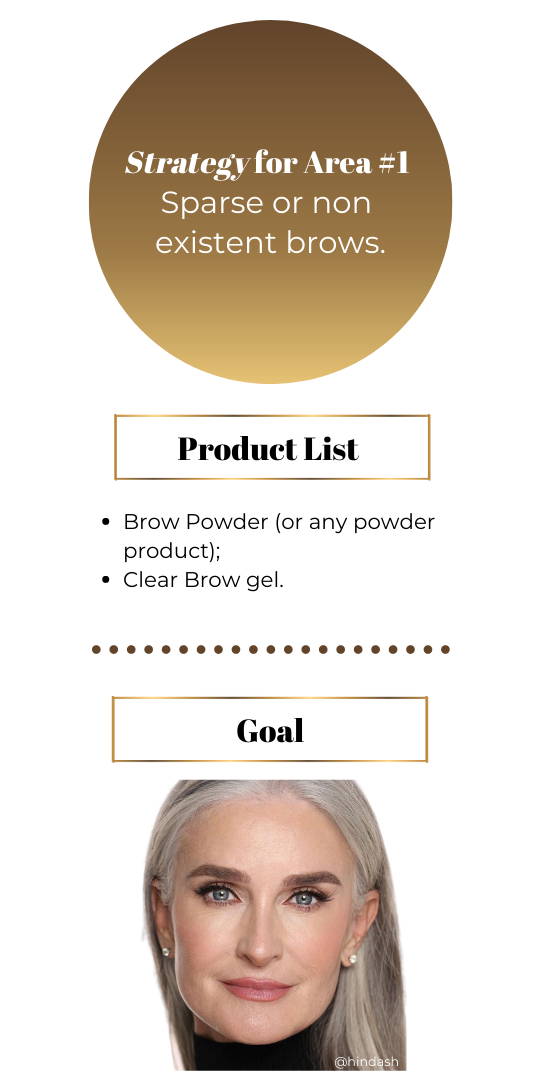 Combat plan:
To create a youthful look - avoid harsh styles, pick gentle, soft colors and looks. If the brows are almost non-existent, emulate them with an angled brush and hair-like strokes. If there is hair to work with, gently fill in the missing places and fix the hairs in place with clear gel. For this result - powder products work best as they create a softer, tender look. Don't forget to put a bit of concealer underneath your brow to sharpen it a little bit and to strengthen the eye lift illusion even more.
Strategy for Area #2: saggy, wrinkly, ashy skin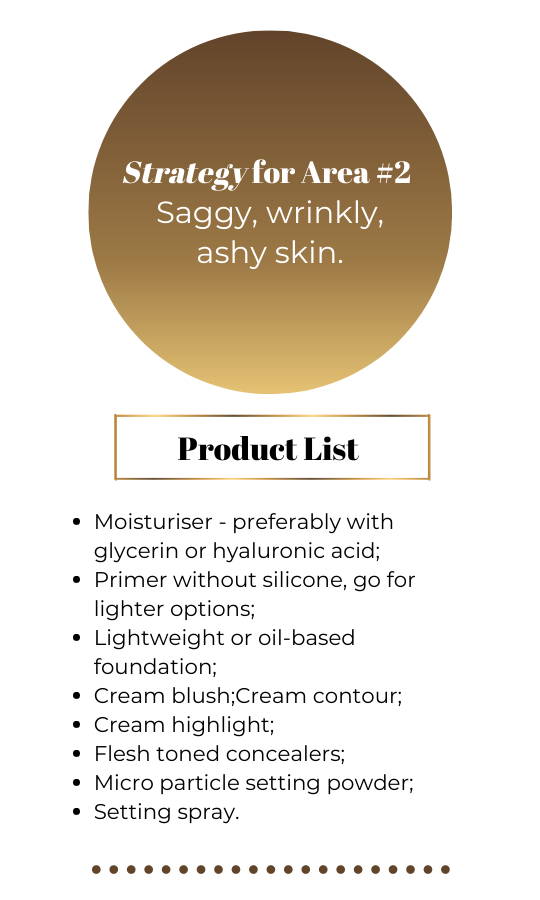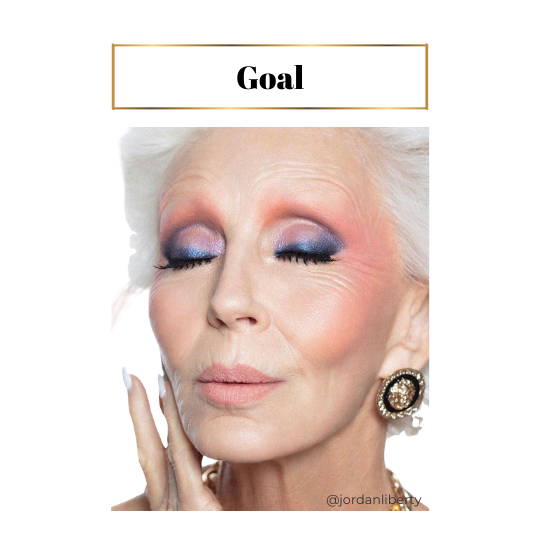 Combat plan:
Now this is going to take planning - first, evaluate your model's skin and the most problematic areas. The key rule is to avoid using powder as much as possible, since it may accentuate the wrinkles and make the makeup look like an artistic mask or just a really bad attempt at one.
The first step is prepping - plumping the skin with hydration boost to firm it out as much as possible. Then - prime, go for lighter primers to avoid the cakey result. Second is contouring and blush - avoid heavy contour and do it only if necessary, since the cheeks hollow out with age. Cream blush will be your jazz here - it really flushes the color into the skin. However, key thing to remember here is keeping it concentrated on apple cheeks, since cheek to mouth application may elongate the face too much.
The tricky part is deciding if you need to use powder at all: that depends on your model's/client's wrinkles. If they are not deep, saggy, then you can forget it or use it very sparingly on the T-zone. If the face is deeply expressional and the wrinkles are carved out - fix the face and under eye with just a touch of powder by pressing it into the skin and swiping of the excess. The trick here is choosing the right product for your needs - the smaller particles are best as they are not so evident on skin. Some older women can get away with dewy look no problem, for others it may attract attention to uneven skin too much. It's important to evaluate the situation and use your highlights, foundations and powders to your advantage.
Strategy for Area #3: saggy, wrinkly eyelids and under eyes


Combat plan:
If your model has dark circles, try to avoid color correctors and go for peachy concealers instead - the trick here is to prime the under eye so that the product does not crease. If the under eye is extremely dark, then mix a bit of concealer with the color corrector to soften the result and make it less cakey. However, don't forget to always prime the area first to minimise creasing and if your model needs setting due to deep wrinkles, do it by pressing the minimal amount of powder into the skin and sweeping off the excess.
When applying eyeshadow, first prime (this should be like a magical word by now)! It's a must with saggy lid. Avoid dark, harsh colors that will make your model look older. The hack here is obvious - blending. Evaluate the eye shape and what needs fixing. And, love, put your wrist into it - it probably won't look perfect but if you create the illusion of lifted, bigger eyes, you're golden. Little tip - don't use eyeliner, do your liner with eyeshadow or a soft pencil.
Strategy for Area #4: thin, wrinkled lips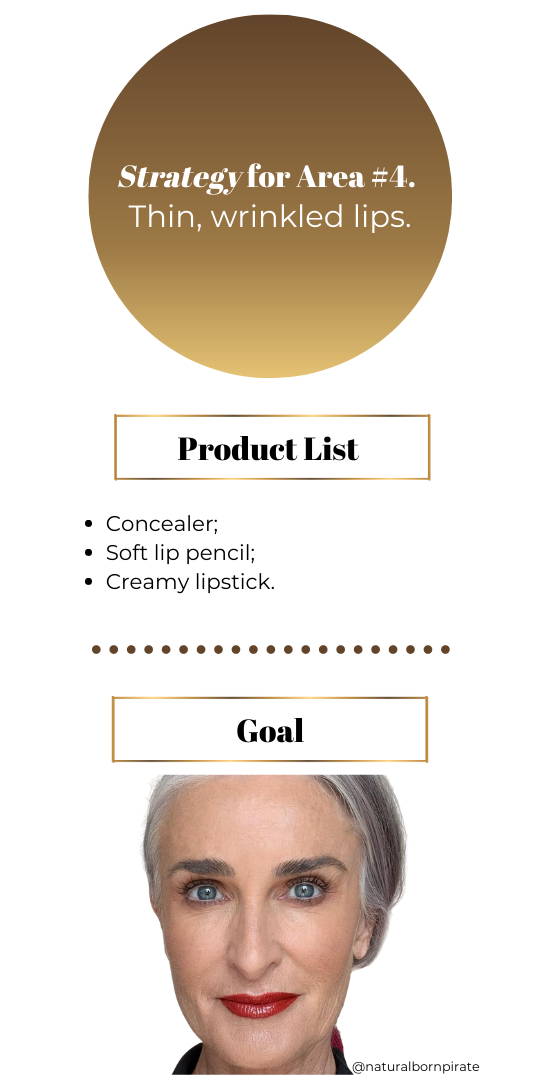 Combat plan:
To reduce the chance of bleed out - first apply concealer on the whole lip area and let it set. Then go for neutral, more peachy, natural color pencils and gently overdraw the lips to plump them out. Fill in with creamy, shiny lipstick for the ultimate healthy look.
And that is that - remember that your goal is light, fresh and youthful, so don't go full glam here, less is more in this case and will be your golden ticket for gorgeous, flawless and gracefully mature looks.
Video credit: @jordanliberty
---
WANT MORE?! KEEP LEARNING WITH OUR MOST POPULAR TOPICS:  
---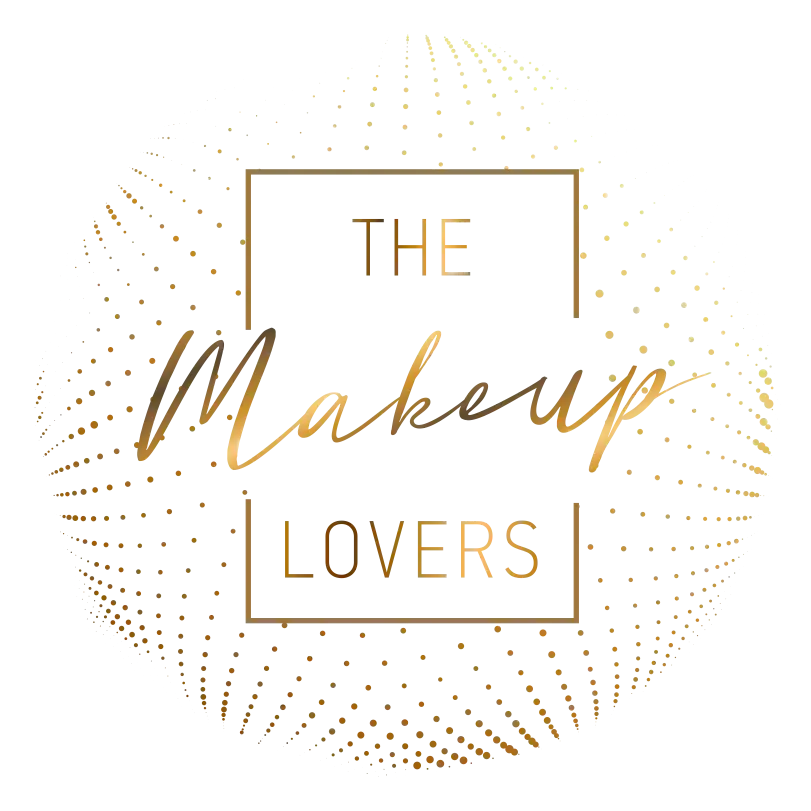 The Makeup Lovers is not just an online education hub for makeup artists all around the world who make learning possible for everyone...
We are a group of makeup enthusiasts that looove helping other people to succeed at their craft and to help them reach their dreams. It's a support system to any aspiring or pro makeup artist wanting to become the best at what they do.
It takes one step to go for everything you ever wanted and it all starts here!
We are always here for you!