3 Lessons on Money Making Editorial with Danessa Myricks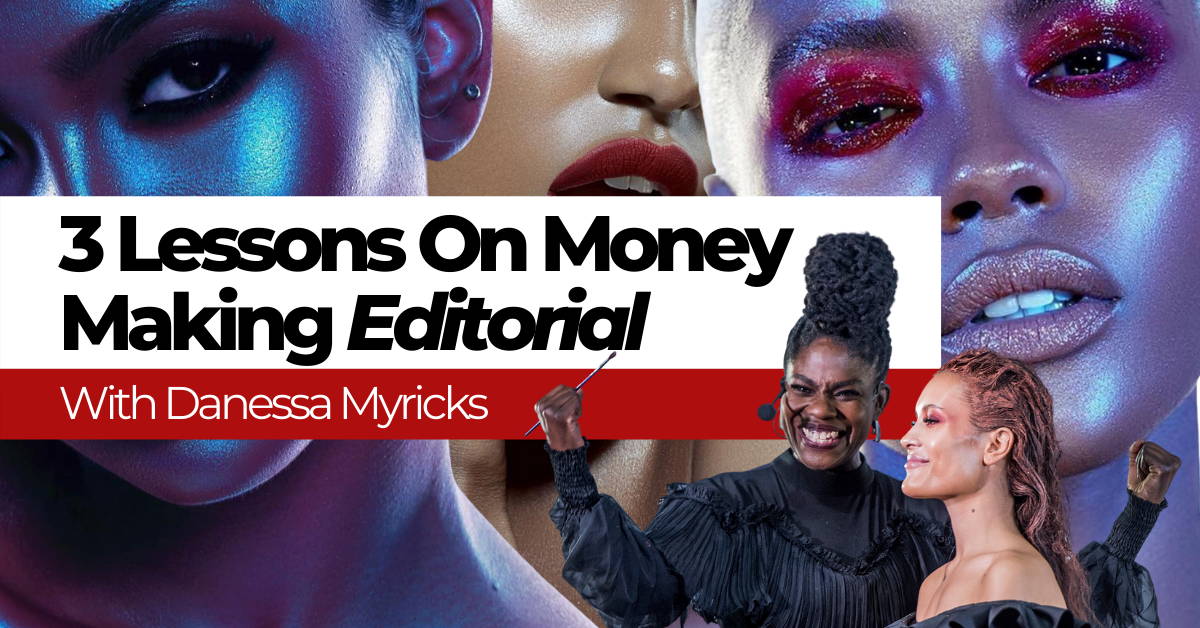 ---
A makeup artist will always have clients if he knows how to produce gorgeous skin.
- Danessa Myricks
---
What graduates a makeup artist to a PRO level?! Getting booked for editorial, of course! Every artist secretly dreams to get their work featured with the biggest brands out here. However, not everyone realizes what it takes to produce perfect editorial looks that wow millions consumers everyday.
Wondering what's the secret that propels you from your private studio straight to working with models and celebrities?! Listen up, because we are dishing out the magical formula: unique style, technique and attention to detail. Master those and you're on your way up!
Thinking it's impossible?! Wrong - we can give you an explosive example that is a complete powerhouse: Danessa Myricks. This woman started her career when she was 30 years old, taught herself working with clients and in time created her unparalleled technique that attracted the attention of thousands, allowing her to build a beauty empire including her own cosmetics line. All the while being a single mother of two. Who knew, huh?
So buckle up, 'cause we are about to break down the groundbreaking technique of Danessa Myricks on creating a breathtaking impeccable editorial look!
Excited to begin?! Let's roll:
Lesson #1 - Skin preparation and cream products are your friends


Why does prepping the skin make or break editorial look? Well, moisturised skin receives makeup better and recedes the effort necessary to execute a flawless application. Pop a sheet mask on your model before starting to work, instruct them (if possible) to do so a night before also, since skin takes up to 8 hours to regenerate. You may also use an oil for added moisture, e.g. Danessa Myricks Beauty oil suitable for oily skin works, as well.
Creating an editorial look a PRO like Danessa picks 99% cream products. The reason for that: this type of product allows for quick correction and results in seamless texture on photos. More so, Danessa recommends working with one main product in different shades to minimize the texture aspect, personally, favors her Vision Cream Foundation, which is created as a concentrate to mix with oils, highlights to suit her work technique. However, you can pick whatever suits you best. So, stock up on cream blush, shadow, highlight and oil, those will be your absolute besties working on this.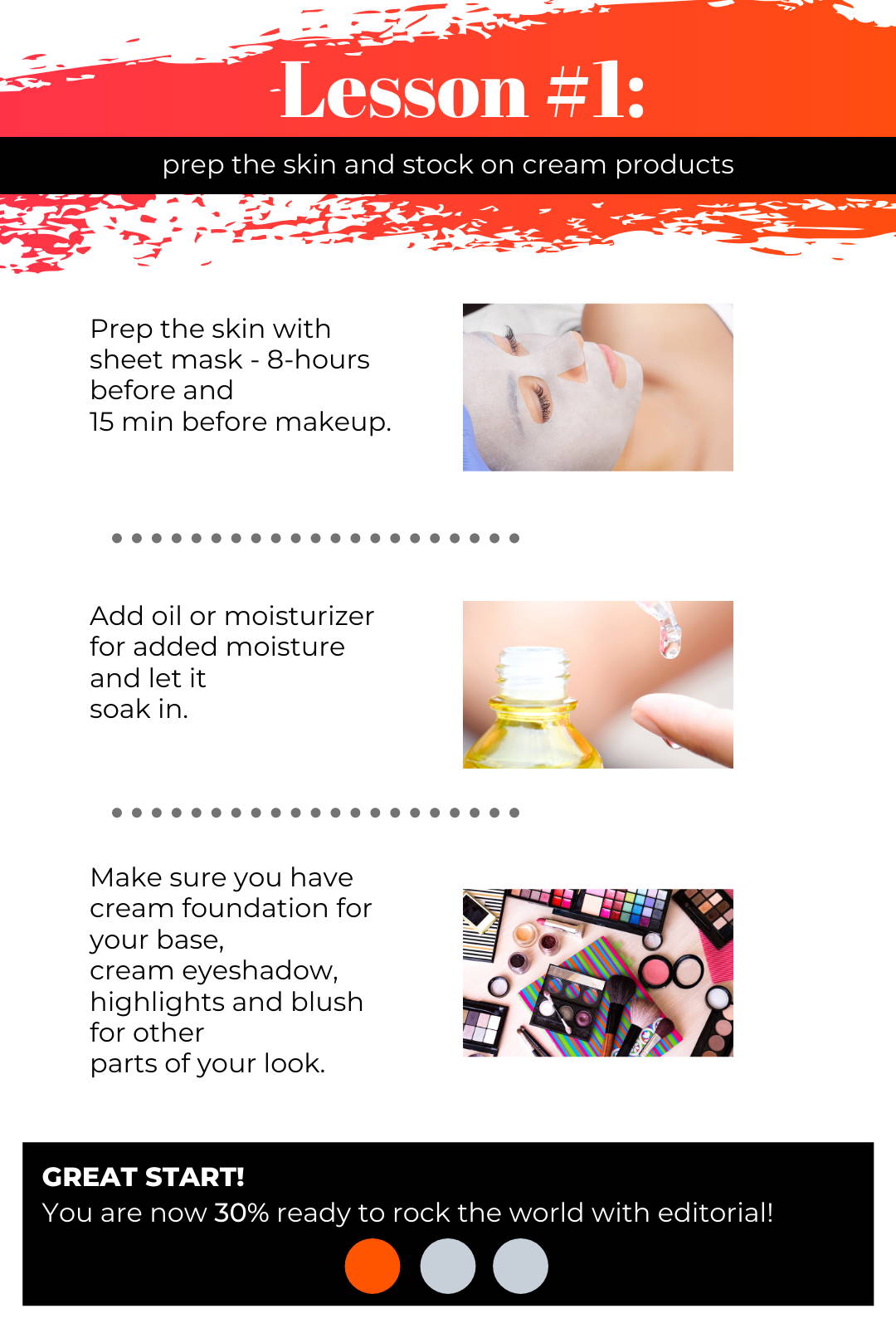 Lesson #2 - Pick correct tools and strategy
Take a pen and make a checklist to get enough fluffy and flat brushes, as well as, a clear palette to mix your cream products on. Flat blushes will be your jam when you need a more intense application and fluffy will work when working in layers for a more sheer and seamless effect. However, as far as blending goes - nothing works better than fingers (of course, sanitize your hands first and do not practise while quarantine) where you can actually control the pressure precisely.
Prepping your strategy, first, look at your model's face: what are the parts that you want to draw attention to and what would be best left behind? This will determine your steps in application. The accents will be most bright with everything else blending into the background. Then pick the palette and see through it to your model's complexion - pick three tones: one matching the skin, the middle tone and the darkest one. These three will be your base in getting middle and other necessary shades.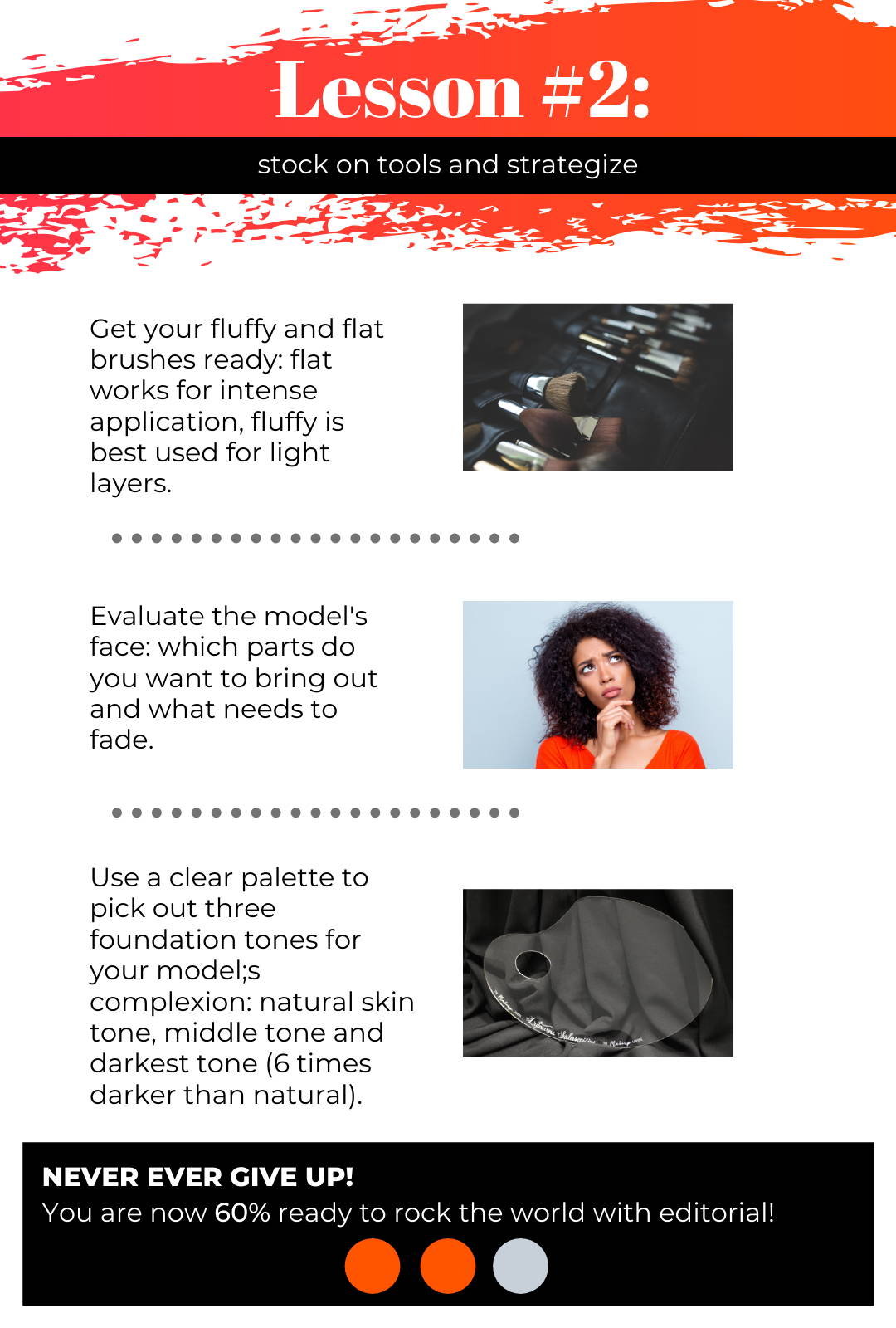 Lesson #3 - Seamless application with cream products
At this part it's important not to fret mixing your product: pick one formula as a base and sheer it with oils, moisturizer, highlight depending on what look you are going for. Danessa sculpts her face using only foundation with a bit of color corrector where necessary, adding blush and highlights afterwards - only to strengthen the effect. Darken the parts of the face that you desire to go unnoticed and lighten those that are key to your look, but always work in thin layers sheering your products with other formulas - in that way you will always be able to make corrections or even adjust the initial concept.
Nothing has to go in order: do skin, eyes, eyebrows all the time, coming back from bit to bit until reaching a harmonious look where all elements complement each other. Use powder only at the very end, but choose wisely - the smaller the particles, the more buttery your skin will transfer to camera. And don't panic if your result seems too dewy, the lens sees it differently.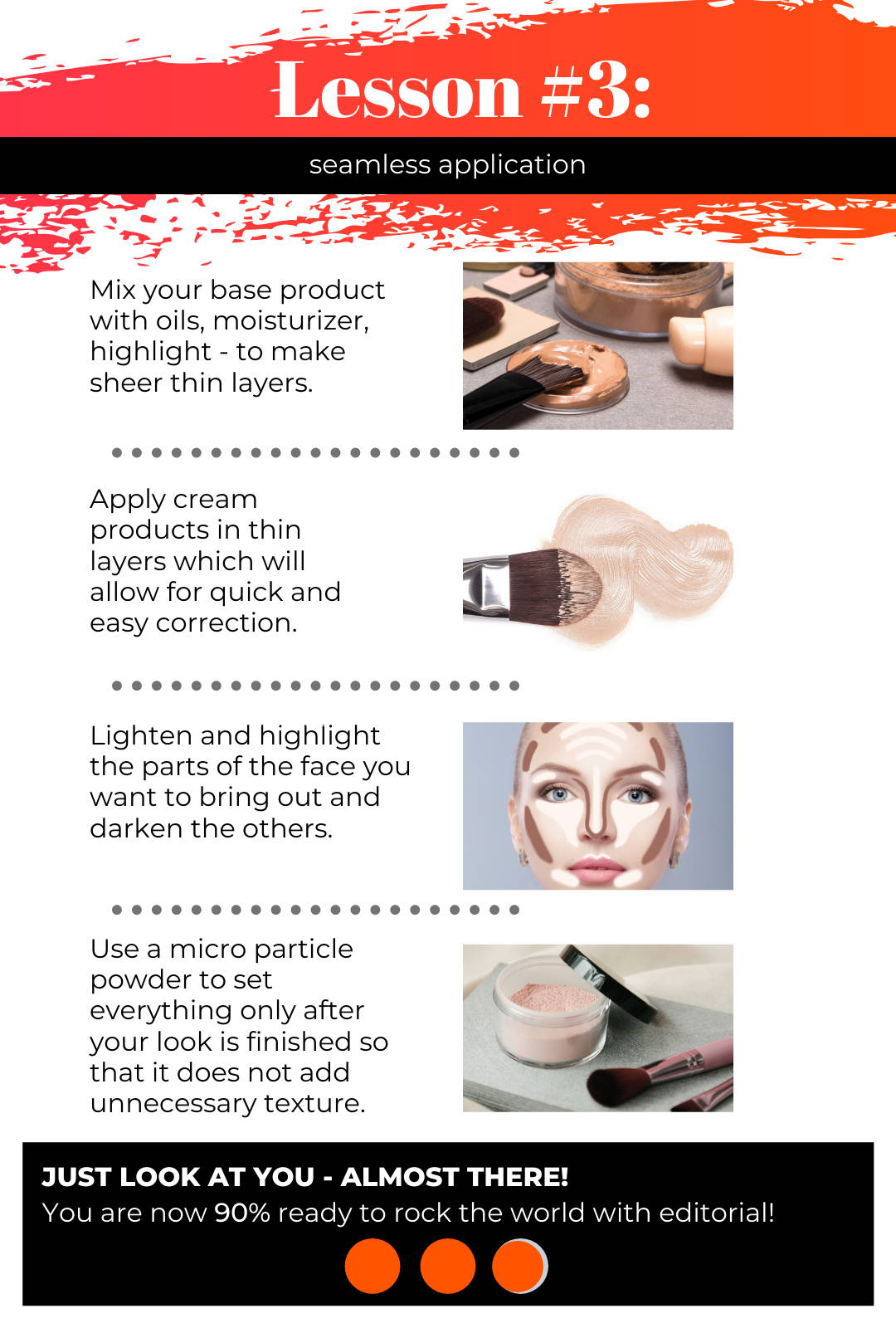 Don't forget that as an artist you are just as great as your style is exceptional. Try these tips and see what works for you, but do not copy. Make it yours and 10 times better. Be brave, make it phenomenal.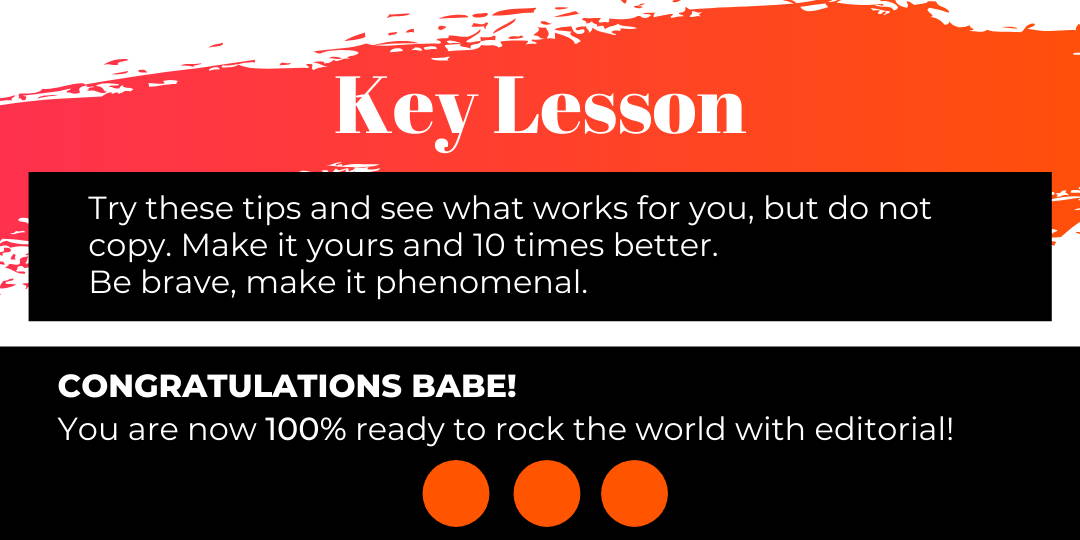 ---
WANT TO MASTER THE FUNDAMENTALS OF EDITORIAL MAKEUP?
Join Danessa Myricks 6+ hours masterclass on makeup for photography and learn her techniques with -50% OFF*!
---
In this class you will:
✔ Learn how to shape, enhance and mold your models features.
✔ Receive tips and tricks on working with different skin complexion.
✔ Get a full lesson on how to photograph your works for social platforms or your portfolio.
✔ Achieve full understanding on how to perform a flawless editorial makeup.
*The offer time is limited.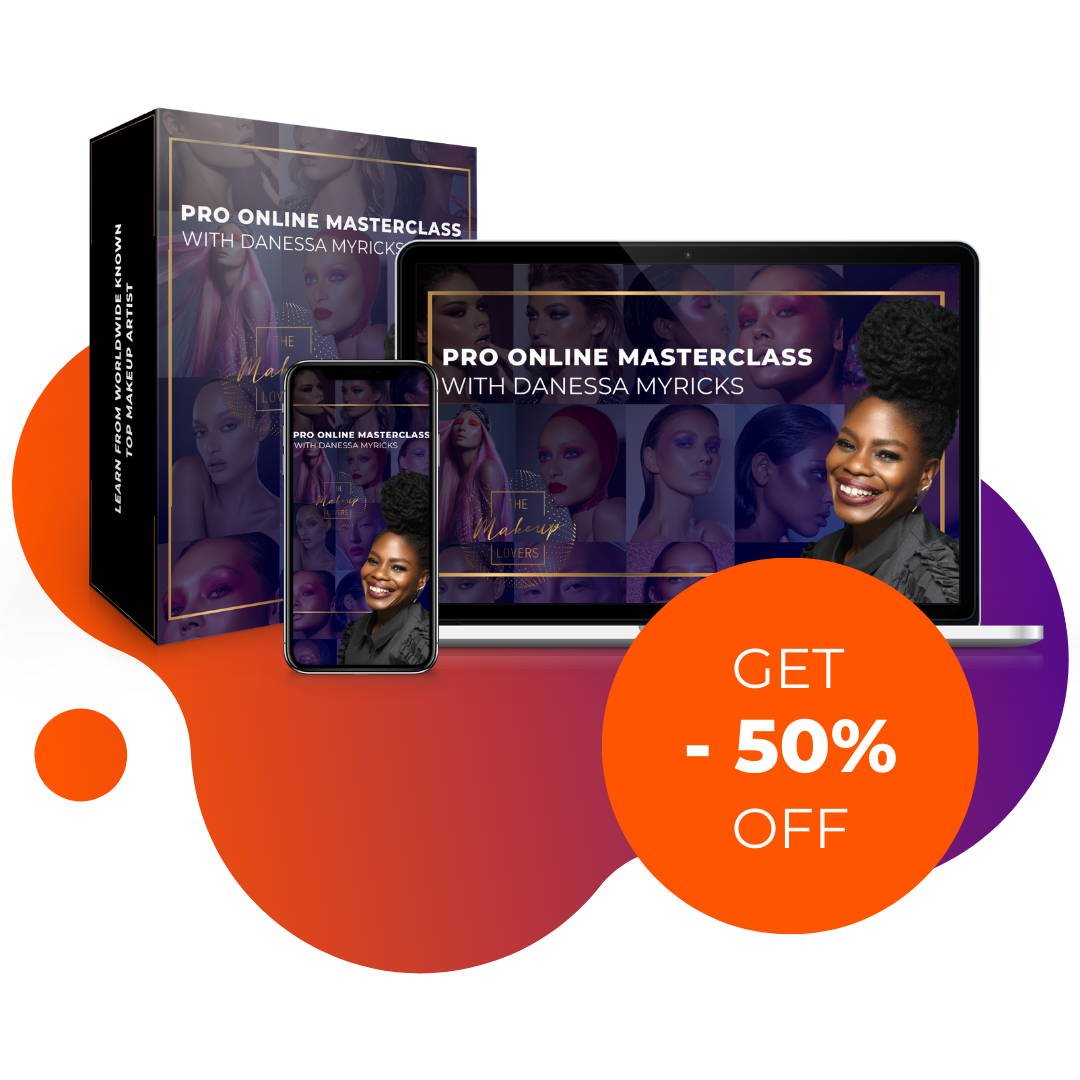 ---
After years of experience working as a corporate executive in education, marketing, and publishing, Danessa Myricks decided to express her creative side.
Forced to start a new career due to corporate downsizing she decided to take her hobby of experimenting with makeup and turn it into a career. Now, whether it's for a celebrity photo shoot, a magazine spread or a wedding, she transforms women from simple to sensational.
Now Danessa could be described as a makeup powerhouse: photographer, makeup artist and a successful entrepreneur. Danessa collaborated with brands like Kiss , Benefit Cosmetics & Limelight By Alcone. Her came from her unique skin makeup techniques and beauty photography. She also created and established her own beauty line - Danessa Myricks Cosmetics.
---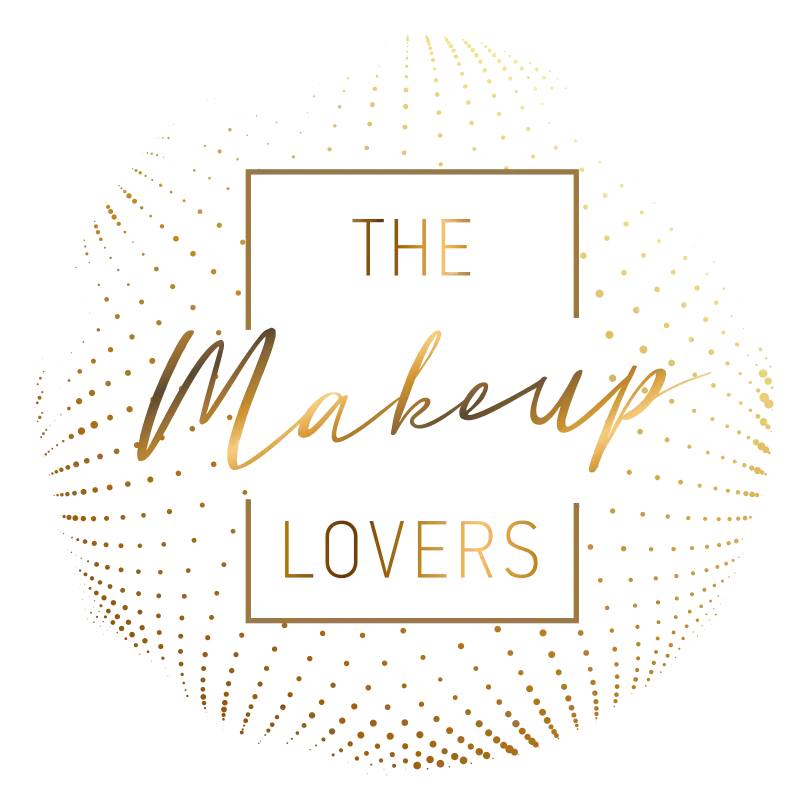 The Makeup Lovers is not just an online education hub for makeup artists all around the world who make learning possible for everyone...
We are a group of makeup enthusiasts that looove helping other people to succeed at their craft and to help them reach their dreams. It's a support system to any aspiring or pro makeup artist wanting to become the best at what they do.
It takes one step to go for everything you ever wanted and it all starts here!
We are always here for you!